Though the practice of Energy Medicine came naturally to me, I have studied several varieties of Energy Medicine through several programs and teachers, as well as following a personal path of learning through reading, research, meditation, practice, and…life. J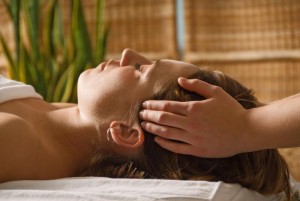 Energy medicine is one of five domains of "complementary and alternative medicine" (CAM) identified by the National Center for Complementary and Alternative Medicine (NCCAM).
The idea of a subtle energy body or animating force in each of us is common to many systems of healing throughout the world (chi in Chinese medicine, prana in India, ki in Japan, mana in the Huna tradition of Hawaii, and the soul in many spiritual traditions of western civilization to name a few), and this concept is specifically articulated in many medical systems – Ayurvedic Medicine, Acupuncture and Chinese Herbal Medicine, homeopathic medicine, Lomi Lomi massage, Reiki, etc. The delicate balance of mental, emotional, physical and spiritual states can become imbalanced, which can result in emotional, psychological and physical illnesses. Energetic imbalance can also manifest subtly in the form of symptoms such as mood fluctuations, headaches, and fatigue. When they are in alignment, however, these energetic systems contribute to the overall health and well-being of an individual.

  Physicists now recognize that energy underlies everything in the universe, and the recognition of the wisdom of these ancient systems for maintaining health is finding it's way into more and more healing practices in the West, as western allopathic systems of medicine are beginning to open to the potentials for understanding the movement of subtle life force in maintaining health. The combination of eastern and western systems of medicine promises a future of innovative advances in healthcare.
Training~ 
I am a graduate of the Integrated Energy Medicine program at the Foundation of the Sacred Stream (San Francisco, CA), a course of study and practice which brings together several ancient systems of medicine.  It draws from the wisdom of ancient eastern philosophies and spiritual traditions from Japan, China, India, Tibet and others – whose primary focus are bringing the subtle energy bodies of the mind-body complex into alignment.
I am a Reiki Master, and have also studied Shamanic Energy Work/Healing (see Shamanic Healing page) through the Foundation of the Sacred Stream and with various other teachers, Tantric Energy Work (with a certified Tantric Healer, New Orleans, LA), Chinese and Tibetan Medicine diagnostics (Shang Shung Institute, MA), Metaphysics, Donna Eden's Energy Medicine, Judith Orloff's Energy Psychology.  My practice of Plant Spirit Medicine would also fall under the umbrella of Energy Medicine, though that is described in more detail on my Herbal Medicine page.
My practice is generally "hands on", though I am happy to tailor my practice mode to meet the needs and comfort of clients.  I am also very able and happy to offer non-local, distance healing with this modality.
Services & Fees~
Energy Medicine sessions are at a rate of $90 per 60 minute session.  A sliding fee scale may be available for clients under some circumstances.
Jaeden Roberts
504-621-0359
707 W. 7th Ave #292
Spokane, WA 99204
Related Links & Articles~
Foundation of the Sacred Stream
http://www.sacredstream.org/Integrated-Energy-Medicine/IEM-Overview.html
Shang Shung Institute
http://www.shangshung.org/home/school.html
Energy Psychology – Institute of Noetic Sciences
http://noetic.org/noetic/issue-thirteen-august/energy-psychology/
Oprah & Dr. Oz on Energy Medicine
http://www.oprah.com/health/Energy-Medicine/1
Good Morning America on Energy Medicine
http://abcnews.go.com/GMA/OnCall/story?id=8450292